Without any doubt, big data is the heavyweight champion of hype in the last years. But it is more than that. In some arenas, it has become a true game changer. Big data conquered and changed the advertising world, for instance. The success of Google's advertising business is based on targeted data mining through applied mathematics. Big data also enables retailers to make smart predictions about our future shopping behaviors by analyzing the quantities of data stored in their sales databases. These are just two examples that show that there can be no denying the power and potentials of big data.
Great potential, not yet utilized
Given its capability to generate new and powerful insights, it is very likely that big data has the potential to have major impact on the communications discipline, too. However, taking a look at the status quo in our communications profession, this transformation is not yet in full swing. The latest results of the European Communications Monitor (ECM) reveal an interesting contrast – while 72.3% of comms professionals believe that big data will change the PR profession in the future, only 21.2% of communications departments or agencies have already implemented big data activities. So, clearly, there is high awareness of big data's relevance, but it's real value add for PR and corporate communications has yet to be found. Big data has not fully entered the profession. Why is that? A fear of data and numbers is surely not the reason.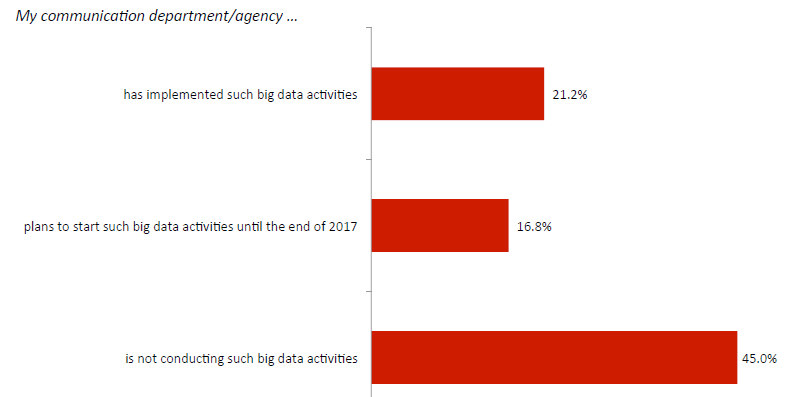 Source: European Communications Monitor 2016
Big numbers instead of big data
While big data seems to remain unchartered territory for the majority of communications departments, our profession is well experienced in dealing with big numbers. In fact, we were and still are conducting huge public opinion surveys, brand awareness studies and employee feedback surveys based on large data sets. These not only enable communication professionals to gain insights on reputation or brand image but also help set the communications agenda. Big numbers also support us in proving our value add to the organizations we work for. Looking back, big numbers have played a major role in the professionalization of corporate communications. Big data, however, is not only slightly different, but still fairly new to our profession.
It's not just size that matters
In contrast to big numbers, big data cannot be reduced to its size. Rather, big data refers to continuous, real-time data streams that are huge and complex – and often also volatile, diverse and unstructured in nature. Through its sheer volume, diversity, speed and range, big data provides a great variety of opportunities for communicators. Big data in communications and reputation management helps professionals identify digital influencers and opinion leaders and let them engage with online communities. Big data also offers useful information about the market, customer and media sentiments, competitors and more. Taking my own department as an example, we have established a real-time issues monitoring tool that provides analyses of international online media coverage on topics relevant to our company. This powerful monitoring tool enables us to create situational awareness.
Supplemented by big numbers, big data can help comms professionals fine tune their PR tactics. The big data/big numbers combination is powerful, but is it sufficient to serve as the baseline for strategic communication?  Let's take a look at what I refer to as "small data" to help answer that question.
Quality, not quantity
Small data, in contrast to big data, is characterized by its rather limited volume, non-continuous collection, and narrow scope. It is gained through interviews and direct exchange with peers. Usually, it is generated to answer specific questions and create targeted insights – thus it is of high quality. At Deutsche Post DHL Group, for instance, we engage with our stakeholders in stakeholder dialogue formats. This enables us to receive their feedback on topics of relevance to them and to us as a company, e.g. on sustainability topics, and to incorporate their views into our actions. By doing so – and I refer to the scientist Rob Kitchin here – we seek to mine gold from working a narrow seam (small data). This stands in contrast to extracting gold nuggets through open-pit mining, scooping up and sieving huge tracts of land (big data). But, why do we need to mine gold from a narrow seam at all?
Small data to create corporate empathy
Driven by the evolution from one-directional communication channels to social media channels, today's stakeholders are no longer passive target groups but active participants in the public discourse. Modern corporate communications, therefore, is about the relationship between a company and society. Companies must develop the ability to recognize and understand social issues, and integrate them into their positioning. Moreover, stakeholder expectations must be understood, acknowledged and appropriately managed. This only happens when we – the comms function – stop talking and start listening. That's the moment when corporate empathy becomes a key factor for success. The insights generated by small data must therefore inform the strategic agenda in the same way that big data and big numbers do – we need both to craft an effective comms strategy.